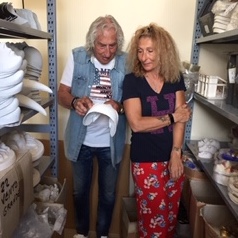 This mask is created by Gianni, Silvia and Roberto
Gianni is a creative mind and unstoppable forge of ideas, he founded the laboratory in 1970. Even today the "Master mask maker" creates "his" masks with the same passion and intensity. Silvia, daughter of art, she was able to stubbornly blend the tradition handed down by her parents with the characteristics of modern materials to create masks that bring tradition into the future. Roberto is committed to mixing tradition with technology and innovation in products in the manufacturing phases. A continuous search to give immortality to the masks and the art of masks making
Venetian Mask Plague Doctor Mask with Drawing
In the fifteenth century the miasmic humoral doctrine came to believe that infectious diseases such as the plague, one of the most feared, were transmitted through fetid air and that poisonous particles were present that would infect people who came into contact with it. A garment is then created that allows the doctor to isolate himself as much as possible from infected individuals, thanks to gloves, tunic, shoes, hat and most important: a mask.
The doctor of the plague and the plague doctor's mask
The mask was designed to isolate the face allowing breathing. In fact, the beak served as an air filter, in which perfumed essences such as mint or lavender, usually soaked in vinegar, were inserted. Given the relevance in the collective imagination and for what it represented, this mask certainly could not be missed among the masks of the Venice carnival.
Decorated entirely by hand by expert decorators according to the most traditional and ancient technique of Venetian masks "100% Made in Italy certificate".
Curiosity
Why is the plague doctor's mask very relevant in Venice even compared to other Venetian masks?
Venice being a city with a large commercial flow has suffered many times due to epidemics, particularly the plague. In 1575, for example, he killed nearly 50,000 people and just as many in 1630.
What is the black plague?
The Black Plague, Great Plague also known as Black Death was one of the most devastating pandemics in human history. Historians have estimated about 75-200 million deaths. The geographical areas involved were Europe and Asia.
What role does the plague doctor's mask play in the art comedy?
It had no role, unlike Venetian masks like the Colombina mask, its origin is not related to the comedy of art
Who invented the plague doctor's dress?
Charles de Lorme, doctor of Louis XIII, designed the dress in 1619, taking military clothing as a reference.
What material are the Venetian masks of the plague doctor on sale in our shop made of?
The masks are handcrafted in papier-mâché by expert mask maker
Our products are unique handmade pieces therefore all the images are indicative, as well as the measurements and colors that may be subject to variations.
Best shopping experience
24h fast order processing
Fast and Trackable Shipping