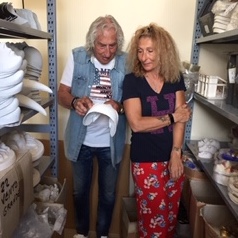 This mask is created by Gianni, Silvia and Roberto
Gianni is a creative mind and unstoppable forge of ideas, he founded the laboratory in 1970. Even today the "Master mask maker" creates "his" masks with the same passion and intensity. Silvia, daughter of art, she was able to stubbornly blend the tradition handed down by her parents with the characteristics of modern materials to create masks that bring tradition into the future. Roberto is committed to mixing tradition with technology and innovation in products in the manufacturing phases. A continuous search to give immortality to the masks and the art of masks making
Venetian Mask Jolly Uomo Donna
Love, a magic that explodes between him, the mad court jester and her, the gentleman, their faces, united in a magic smile. A particularly valuable mask because it combines the face of the joker and that of the lady in one demanding papier-mâché production. The decorations then give life to this mask. The faces are painted with contrasting colors, the decorations are made with stuccoes produced in our laboratory following the traditional "recipes" and then covered with gold leaf. Are then applied tips and curls of paper that recall the history of Venice once.
The music / taroc version recalls Vivaldi's notes played in the noble palaces and the tarots read by court visionaries. The cat / taroc version recalls animal cats so dear to Venice for having contributed to the elimination of the plague here portrayed as lucky cards and tarots so fashionable at the time. The music / zodiac version recalls the map of the sea and the stars that have helped make the serenissima a powerful republic of the time associated with the Vivaldi music that accompanied the sailors during theirs travels.
A magic, the court jester joins his partner to create a different and unique show for his masters. Handmade Papier-mache Mask realized following the acient Venetian Masks tradition. Certified 100% Made in Italy.
Available papers: Music/Taroc, Music/Zodiac, Cat/Taroc
Our products are unique handmade pieces therefore all the images are indicative, as well as the measurements and colors that may be subject to variations.
Best shopping experience
24h fast order processing
Fast and Trackable Shipping