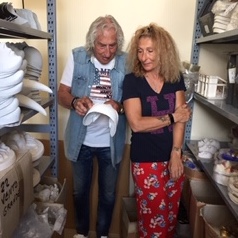 This mask is created by Gianni, Silvia and Roberto
Gianni is a creative mind and unstoppable forge of ideas, he founded the laboratory in 1970. Even today the "Master mask maker" creates "his" masks with the same passion and intensity. Silvia, daughter of art, she was able to stubbornly blend the tradition handed down by her parents with the characteristics of modern materials to create masks that bring tradition into the future. Roberto is committed to mixing tradition with technology and innovation in products in the manufacturing phases. A continuous search to give immortality to the masks and the art of masks making
Venetian Mask Leone Grande Foglia Oro
The Winged Lion, symbol of Venice and of the Serenissima Repubblica (Republic of Venice), is the symbolic representation of the evangelist St. Mark. The face of the lion used to be hung outside the gates of the noble Venetian families.
It is made of ceramic and, after a proper preparation, a gold leaf is applied; follow some layers of protective paint and then an aging patina. Fully handmade mask, with 100% Made in Italy Certification.
Our products are unique handmade pieces therefore all the images are indicative, as well as the measurements and colors that may be subject to variations.
Best shopping experience
24h fast order processing
Fast and Trackable Shipping