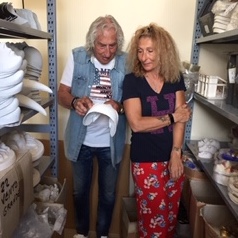 This mask is created by Gianni, Silvia and Roberto
Gianni is a creative mind and unstoppable forge of ideas, he founded the laboratory in 1970. Even today the "Master mask maker" creates "his" masks with the same passion and intensity. Silvia, daughter of art, she was able to stubbornly blend the tradition handed down by her parents with the characteristics of modern materials to create masks that bring tradition into the future. Roberto is committed to mixing tradition with technology and innovation in products in the manufacturing phases. A continuous search to give immortality to the masks and the art of masks making
Venetian Mask Tricorno con bavero
The court jester and his accessories in a single mask. The extraordinary peculiarity of this realization is given by the fact that the parts that make up the upper tricorn consist of nine single paper triangles masterfully cut and glued together to form a single piece with the face that supports them.
Even the collar is made of a single piece, cut and then folded by wrapping it according to the needs of the various folds, in a piece of heated round metal.
This type of very accurate and demanding work is carried out by an expert mask maker who takes many hours to complete the realization. Once the basic structure has been created, it is rigorously decorated by hand by applying fillers and colors.
Wearable handmade paper mache mask, decorated and assembled entirely by hand by expert decorator according to the most traditional and ancient technique of Venetian masks. Mask with "100% made in Italy certificate" certification.
Our products are unique handmade pieces therefore all the images are indicative, as well as the measurements and colours that may be subject to variations.
Best shopping experience
24h fast order processing
Fast and Trackable Shipping