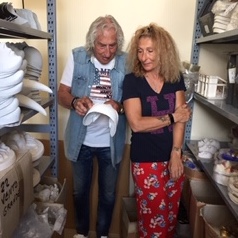 This mask is created by Gianni, Silvia and Roberto
Gianni is a creative mind and unstoppable forge of ideas, he founded the laboratory in 1970. Even today the "Master mask maker" creates "his" masks with the same passion and intensity. Silvia, daughter of art, she was able to stubbornly blend the tradition handed down by her parents with the characteristics of modern materials to create masks that bring tradition into the future. Roberto is committed to mixing tradition with technology and innovation in products in the manufacturing phases. A continuous search to give immortality to the masks and the art of masks making
Venetian Mask Vento Lampo
The God of the Wind, Aeolus, a Greek mythological figure, has always had a great influence in all maritime cities. Even Venetian merchants and nobles respected and worshipped him, because he allowed them to transport goods to the East.
This is a single-piece mask made entirely of papier-mâché. After various processes, gold leaf is applied and then also an aging product, to give an "antique" look to this wonderful work. Everything is done exclusively by hand by master Gianni, the founder of our workshop, who is the only person able to perfectly perform such a big and demanding decorations. Mask with 100% Made in Italy certification.
Our products are unique handmade pieces therefore all the images are indicative, as well as the measurements and colors that may be subject to variations.
Best shopping experience
24h fast order processing
Fast and Trackable Shipping