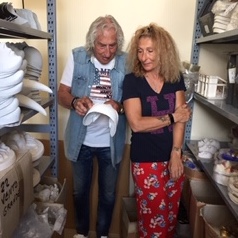 This mask is created by Gianni, Silvia and Roberto
Gianni is a creative mind and unstoppable forge of ideas, he founded the laboratory in 1970. Even today the "Master mask maker" creates "his" masks with the same passion and intensity. Silvia, daughter of art, she was able to stubbornly blend the tradition handed down by her parents with the characteristics of modern materials to create masks that bring tradition into the future. Roberto is committed to mixing tradition with technology and innovation in products in the manufacturing phases. A continuous search to give immortality to the masks and the art of masks making
Venetian Mask Volto Rialto
The Rialto Bridge, one of the most famous symbols of Venice in the world, is represented together with the "ferri della gondola" or more technically "pettini di prua" (iron prows), present in Venetian gondolas since the year 1000.
The "iron prow" also symbolizes the very essence of Venice, providing the stylized representation of the city. Starting from the top of the gondola's iron prow you can clearly recognize the shape of the Doge's Horn, the Doge's headgear. The arch below symbolizes the Rialto Bridge, while the S shape evokes the Grand Canal. The six rostrums lined up on the front side indicate the division of the city into its six districs or "sestieri" (San Marco, Castello, Cannaregio, Dorsoduro, Santa Croce and San Polo), the one facing backwards represents the Giudecca.
The mask is made of papier-mâché and metal. The latter, after undergoing a gilding process, is decorated and rhinestones are applied by hand, one by one. This mask is decorated by hand by the Masters of our workshop. Mask "100% Made in Italy certified".
Our products are unique handmade pieces therefore all the images are indicative, as well as the measurements and colors that may be subject to variations.
Best shopping experience
24h fast order processing
Fast and Trackable Shipping