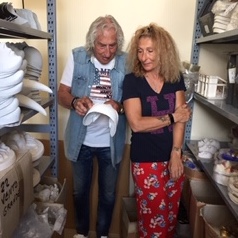 This mask is created by Gianni, Silvia and Roberto
Gianni is a creative mind and unstoppable forge of ideas, he founded the laboratory in 1970. Even today the "Master mask maker" creates "his" masks with the same passion and intensity. Silvia, daughter of art, she was able to stubbornly blend the tradition handed down by her parents with the characteristics of modern materials to create masks that bring tradition into the future. Roberto is committed to mixing tradition with technology and innovation in products in the manufacturing phases. A continuous search to give immortality to the masks and the art of masks making
Venetian Mask Colombina Cigno Zara
Colombina Cigno Zara. This creation derives historically from the mask of the "moretta" that is a small round face that served to the noble ladies to hide the face and to be able quietly to have amorous encounters is said with the famous "Casanova".
Entirely made of papier-mache, easily wearable, light enough to be worn for a whole day. The bright and vivid colors, the handmade decorations, the stuccos produced in our laboratory following the traditional "recipes" make this mask the perfect accessory to wear to spend a day in Venice, perhaps even in the period of Venetian carnival, at a party, at an elegant evening, at a party with old friends…and…be careful not to meet Mr. Casanova!
Available colors: Black, ligth Blue, Red, Green
Our products are unique handmade pieces therefore all the images are indicative, as well as the measurements and colors that may be subject to variations.
Best shopping experience
24h fast order processing
Fast and Trackable Shipping