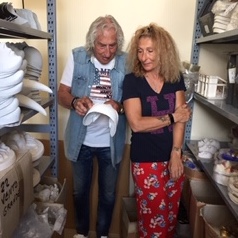 This mask is created by Gianni, Silvia and Roberto
Gianni is a creative mind and unstoppable forge of ideas, he founded the laboratory in 1970. Even today the "Master mask maker" creates "his" masks with the same passion and intensity. Silvia, daughter of art, she was able to stubbornly blend the tradition handed down by her parents with the characteristics of modern materials to create masks that bring tradition into the future. Roberto is committed to mixing tradition with technology and innovation in products in the manufacturing phases. A continuous search to give immortality to the masks and the art of masks making
Venetian Mask Plague Doctor Mask Paul
For centuries there was no more frightening calamity than the plague. The disease came from the East and therefore all the roads of commerce, which was for Venice the main source of wealth, were transformed into avenues of contagion.
It was 1630. Along with the spices and precious fabrics, the ships of the Serenissima also carried black death. So wrote Alvise Zen, "doctor of the plague" after the two waves of epidemic of 1575 and 1630. "… we wore a long closed robe, gloves, boots and we covered the face with a long-nosed and hooked mask and goggles that we gave an appalling look".
From this fascinating but frightful true story is born one of the most famous and recognized Venetian masks" the doctor of the plague" wearable mask handmade in papier-mache trying to trace and accurately report the dimensions that have made it famous, decorated entirely by hand by expert decorators according to the most traditional and ancient technique of Venetian masks "100% Made in Italy certificate". We have also a special version of this plague doctor mask with handmade drawing.
Available colours: Black, Gold
Our products are unique handmade pieces therefore all the images are indicative, as well as the measurements and colors that may be subject to variations.
Best shopping experience
24h fast order processing
Fast and Trackable Shipping